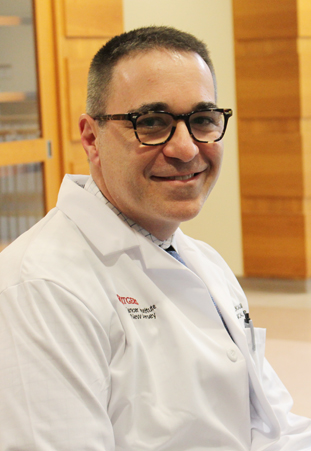 During President Barrack Obama's State of the Union Address, a new federal initiative focused on the field of precision medicine and its indispensable role in finding better treatments for cancer and other diseases with unmet clinical needs was announced. In line with this, acclaimed immunotherapy expert, Dr. Howard L. Kaufman from Rutgers Cancer Institute of New Jersey published his own professional opinions on the subject, and titled the editorial, "Precision Immunology: The Promise of Immunotherapy for the Treatment of Cancer," in the Journal of Clinical Oncology. 
Dr. Kaufman is the associate director for clinical science and chief surgical officer at the Cancer Institute. He sat down with Rutgers Today to share his thoughts on his editorial and what lies ahead in the field of precision medicine.
In response to the question "The concept of precision – or personalized – medicine has evolved over the past decade. How far have we come?", Dr. Kaufman believes the progress has been phenomenal, in that today's technology allows the rapid and comprehensive profiling of an individual's unique genetic makeup and immune function. Having an understanding of the patient on a molecular, and even sub-molecular level makes a world of difference in determining which treatments would be best suited for each patient. This process used to take years, but biomedical research has dramatically cut down patient profiling to as little as a few hours.
"New drugs have been developed that can be used to target the mutations. A similar revolution has taken place in immunology, which focuses on helping the immune system fight infection and other diseases, including cancer," Dr. Kaufman said. "We now not only have a better understanding of how cancer can outwit the immune system but also how the immune system can mediate tumor regression. This knowledge allows us to create an immune profile in patients and select appropriate immunotherapy to treat specific cancers."
Dr. Kaufman was then asked, "You discuss a recently proposed concept called the 'cancer-immunity cycle' in your editorial. What is this and what does it mean for precision medicine efforts?" to which he answered, "While chemotherapy and other targeted therapy work directly, and quite often rapidly, on cancer cells, immunotherapy may take longer because it is being targeted to more cells that are needed for the immune system to attack multiple cancer cells."
He explained that while chemotherapy works rapidly, there is a chance the cancer cells will develop a resistance to the agent. Immunotherapy, however, has been proven to have long-lasting therapeutic effects, and has even helped some patients achieve complete remission from cancer.
Lastly, Dr. Kaufman was asked, "Where do you see precision medicine and tumor immunotherapy efforts in the next 10 years?" He said cancer screening and diagnostics have nowhere to go but up from where it stands now, and this will ultimately mean better disease outcomes for many. He adds, "There is already some intriguing data that targeting the cancer cell through precision medicine and the immune system can have synergistic activity against cancer. This is best exemplified by melanoma, the most deadly form of skin cancer, in which both targeted therapy and immunotherapy seem to have a role. Since 2011, seven new drugs have been approved for the systemic treatment of advanced melanoma, three are targeted therapy and four are immunotherapy agents. Clinical trials combining these drugs are well under way."